A
There are 3 major printing methods we usually used, namely screen-printing, Hydrographics or water transfer printing and thermal-transfer printing.
Screen printing is a printing technique whereby a mesh is used to transfer ink onto a substrate, except in areas made impermeable to the ink by a blocking stencil. A blade or squeegee is moved across the screen to fill the open mesh apertures with ink, and a reverse stroke then causes the screen to touch the substrate momentarily along a line of contact. This causes the ink to wet the substrate and be pulled out of the mesh apertures as the screen springs back after the blade has passed. One color is printed at a time, so several screens can be used to produce a multicoloured image or design.
There are various terms used for what is essentially the same technique. Traditionally the process was called screen printing or silkscreen printing because silk was used in the process. It is also known as serigraphy, and serigraph printing. Currently, synthetic threads are commonly used in the screen printing process. The most popular mesh in general use is made of polyester. There are special-use mesh materials of nylon and stainless steel available to the screen printer. There are also different types of mesh size which will determine the outcome and look of the finished design on the material.
Hydrographics(water transfer printing)

Hydrographics or HydroGraphics, also known as immersion printing, water transfer printing, water transfer imaging, hydro dipping, watermarbling or cubic printing, is a method of applying printed designs to three-dimensional surfaces. The resulting combinations may be considered decorative art or applied art. The hydrographic process can be used on metal, plastic, glass, hard woods, and various other materials.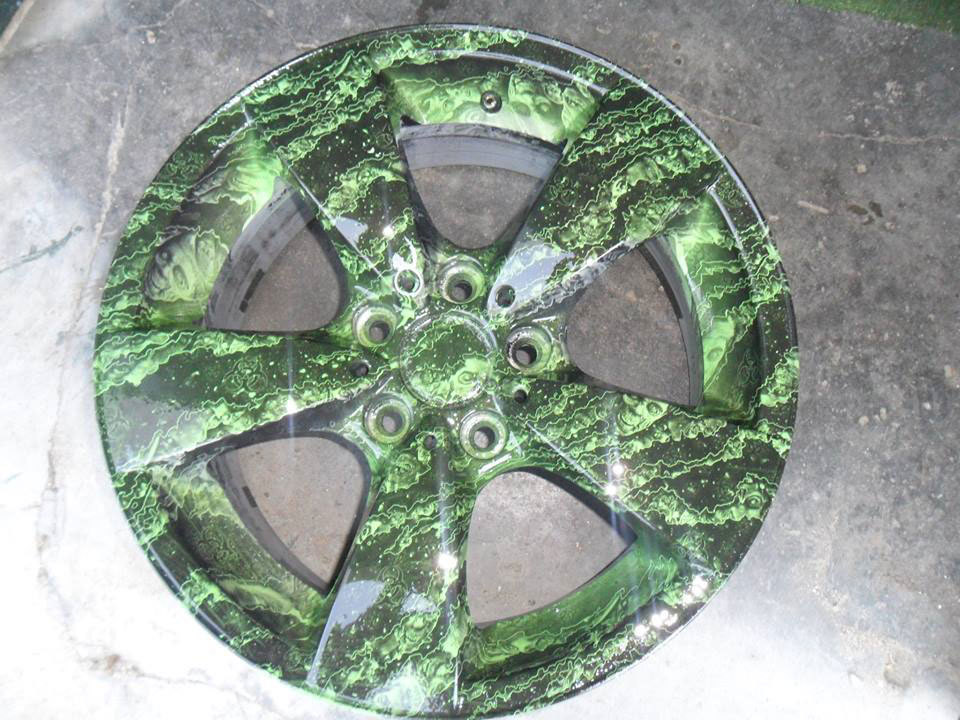 Thermal-transfer printing is a digital printing method in which material is applied to paper (or some other material) by melting a coating of ribbon so that it stays glued to the material on which the print is applied. It contrasts with direct thermal printing, where no ribbon is present in the process.
Thermal transfer is preferred over direct thermal printing on surfaces that are heat-sensitive or when higher durability of printed matter (especially against heat) is desired. Thermal transfer is a popular print process particularly used for the printing of identification labels. It is the most widely used printing process in the world for the printing of high-quality barcodes. Printers like label makers can laminate the print for added durability.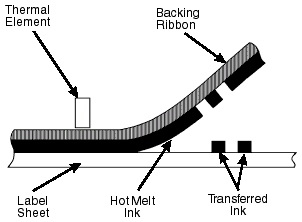 Thermal-transfer printing is done by melting wax within the print heads of a specialized printer. The thermal-transfer print process utilises three main components: a non-movable print head, a carbon ribbon (the ink) and a substrate to be printed, which would typically be paper, synthetics, card or textile materials.
These three components effectively form a sandwich with the ribbon in the middle. A thermally compliant print head, in combination with the electrical properties of the ribbon and the correct rheological properties of the ribbon ink are all essential in producing a high-quality printed image.